Having trouble activating HUD from our installer page?
The HUD installer page pictured below will not work for the following edge case configurations:
• Chartbeat Sites with custom Site names that do not match the actual web domain of the page(s) where you are trying to load HUD (ex: Chartbeat Site Name = "france.mysite.com", web domain = "www.mysite.com/france/")
• Pages of your site that reside under a subdomain, such as news.mysite.com, but traffic data for these pages report to a Chartbeat Site named as the root domain, such as mysite.com.
In order to install HUD on a page of your site where the domain name does not correspond with a Chartbeat Site of the same name in the HUD installer page "select site" menu pictured below, use our bookmark activation method instead (scroll down to the "alternative activation methods" section on
this page
to install HUD via a browser bookmark
).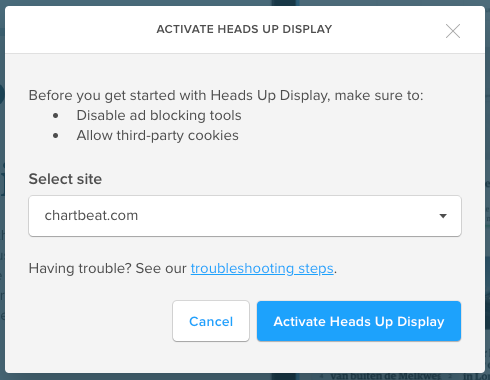 Trouble installing HUD after updating to Chrome version 80

If the HUD is prompting you to sign in after updating your Chrome browser to
version 80
, simply visit
https://chartbeat.com/logout
to sign out of your current session. Once you log back in to Chartbeat, simply refresh the tab in which you are attempting to load the Heads Up Display.
... If you are still having trouble after trying to install HUD via our bookmark method detailed above, follow the steps below to troubleshoot:
Step 1
Ensure that you are signed in to your Chartbeat account, that your login has access to the Site in Chartbeat where you are trying to install the HUD, and that traffic data is flowing to the associated Real-Time Dashboard for the same site.
Step 2
If you're using an ad blocking tool, try turning it off completely in your browser settings and test activating the HUD once more, to see if your issue is resolved. Learn how to manage your Chrome browser extensions.
Step 3
With ad blockers disabled, check your browser settings to ensure that third-party cookies are not being blocked. While our tracking script doesn't use third-party cookies, the Heads Up Display runs on chartbeat.com which is a third-party domain, so your browser needs to allow third-party cookies for chartbeat.com for the HUD to load. In Chrome, click this link to access your cookie settings and ensure that the "block third-party cookies" setting is toggled OFF: chrome://settings/content/cookies
See instructions for enabling third-party cookies in Safari and Firefox with the links below:

Note

Firefox now includes cookie blocking by default. To disable this setting for your site where you need the HUD to load, click the shield icon in your URL bar, and select the button labeled "Turn off blocking for this site":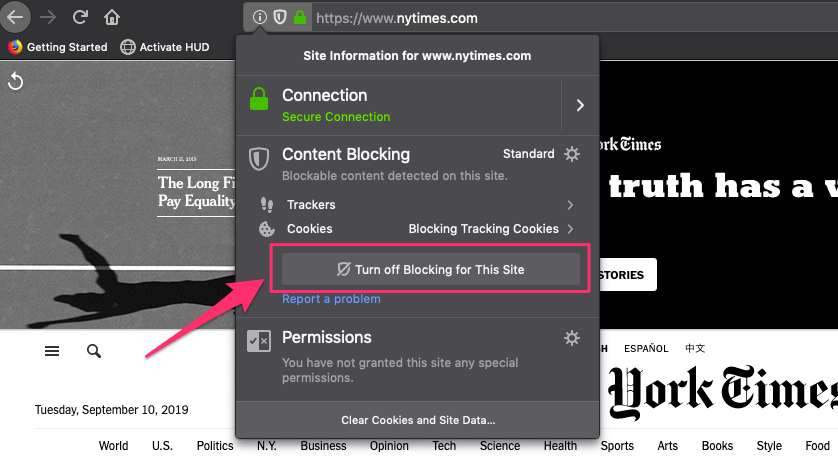 Step 4
If you're still having issues loading the HUD after following the steps above, it's possible that another one of your browser extensions is conflicting with the Heads Up Display. Try signing in to Chartbeat in an incognito window with plugins disabled and loading the HUD in this window. If the HUD loads, it's almost certainly an indication that one of your active browser plugins is interfering when not in incognito. Try disabling all plugins one-by-one, check after each one to see if the HUD loads on your site to identify the incompatible plugin. If you identify an incompatible plugin, please let us know the details at support@chartbeat.com and we'll add to our backlog for investigating a fix.
It's worth creating a new Chrome profile as well to see if another aspect of your browser settings is in conflict with our HUD code. You can add a new Chrome profile from People > Add Person or Profiles > Add Profile
Still experiencing an issue?
Let us know
and we'll take a look.