There are a few reasons certain social media posts linking to your content may not appear in the Offsite Social pane in our Real-Time Dashboard. If you see the "There are no social interactions for this page" message pictured below across all of your pages, it may be an issue with your Chartbeat code implementation. Check out this article for more information on the potential cause and solution.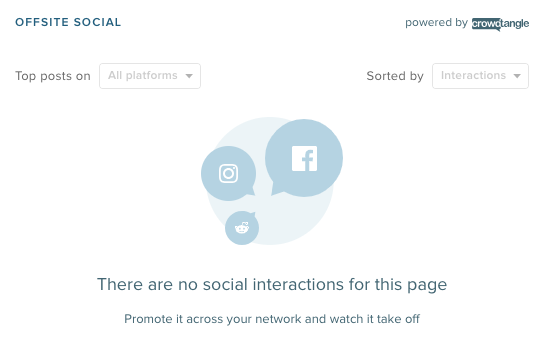 If you see some social posts appearing in the Offsite Social section but notice that particular posts, perhaps from your team's own social accounts, are missing, it may be due to one of the following reasons:
To make sure Chartbeat is surfacing recent interactions where sizable audiences exist in the moment,  Offsite Social only shows data for the last 3 days. Social posts that took place prior to this window won't appear in our product.
CrowdTangle may not be monitoring the social account(s) responsible for these posts. As a bit of background, CrowdTangle actively monitors more than 500,000 influential social accounts to uncover where your content is being talked about online. While the top social accounts are very well-represented in this group, it is not fully exhaustive. If you believe that a particular social account should be present in the Offsite Social feature, but currently isn't, please contact your CrowdTangle account manager for further assistance.