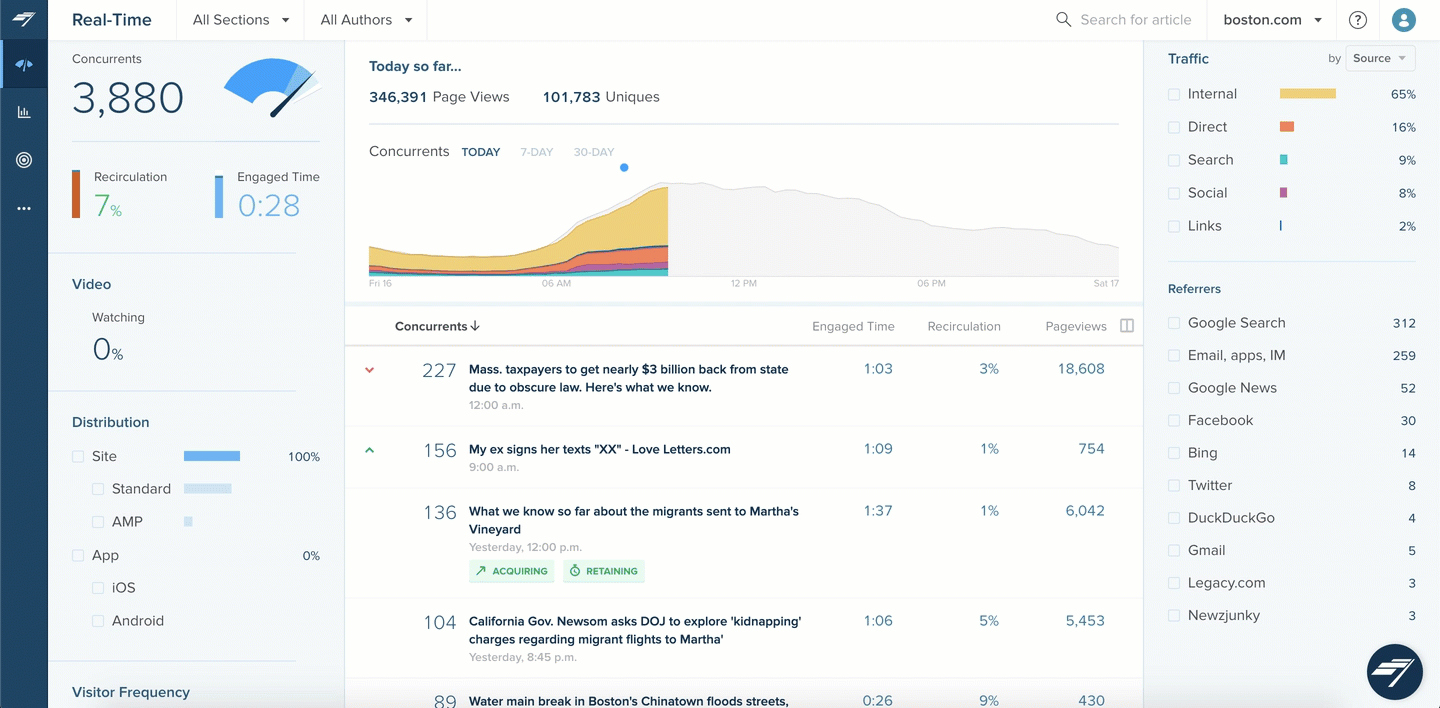 Our Real-Time Dashboard makes it easy to understand how your audience is connecting with your content in the moment -- across platforms, channels, and devices -- so you can take action to optimize for visitor engagement when it's most impactful for your site. Filter your real-time traffic data by sections, authors, location, referrer and more. Understand how new readers engage differently than loyal readers, or guest users versus subscribed. Monitor traffic across all your platforms by integrating Chartbeat for your Accelerated Mobile Pages, Instant Articles, and native apps, and quickly see how each story is generating buzz on the major social platforms with our built-in CrowdTangle integration.
Main Metrics
In the top left corner of the Dashboard you will find our three main metrics; Concurrents, Recirculation, and Engaged time.
Concurrents is a live count of all active sessions open to your site currently. Think of this number as total open pages to your site where visitors are currently or recently engaging. Hover over the dial to learn the expected range at any point in time based on your real-time traffic volume data that we collect and model for each hour of the day.
Recirculation is the percentage of open sessions directly referred by other article pages on your site. It tells you how well your article pages are doing to drive readers deeper into your site by clicking into additional content.
Engaged Time is the average number of seconds visitors actively engage with each page on your site by scrolling, clicking, typing, etc. It tells you how well your site is holding readers' attention at any given moment.
Today so far refers to metrics that have been accumulating for the day — Pageviews and Unique — starting at midnight in your Site's timezone. These totals reset each day.
Hover over the site-wide Recirculation & Engaged Time metrics for more context on how your site typically performs over the last month.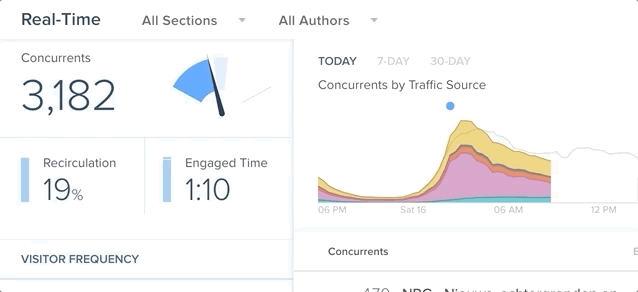 Top Pages
The heart of the Dashboard, the Top Pages section displays a constantly updating list of your highest traffic and most engaging stories. By default, this list is sorted by total concurrents on each page, but you can also sort top pages by average engaged time and recirculation. With the additional option to view total pageviews, uniques, quality pageviews, and new visitors so far today for each story, this is the best way for your team to understand what's resonating with your audience throughout the day in order to make informed programming decisions.
Click on any top page to learn more about how visitors are arriving to your content, and where they go next in your site with the 'Next Pages' list.
Select the manage columns icon in the top right corner of this section to customize your Top Page list with secondary metrics of your choosing, along with the option to hide or display landing pages in this list. You can select as many metrics as your screen resolution will allow, and collapse the right side panel of metrics to view more metrics simultaneously in your Top Pages list.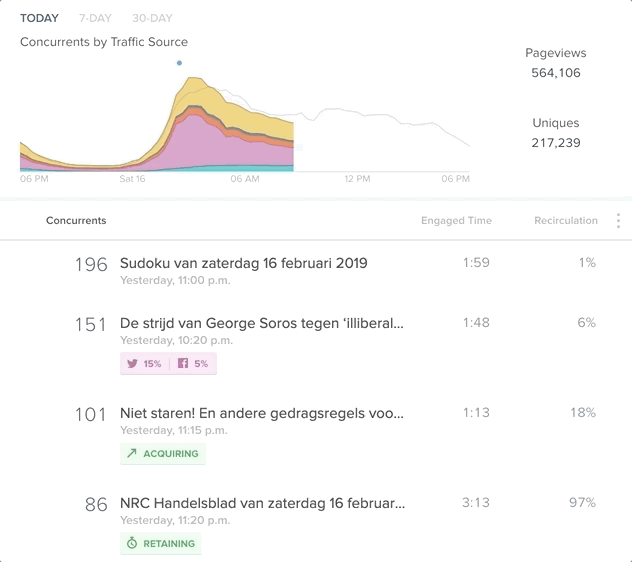 If our subscriber status tracking code is implemented for your site, you can also choose to sort top pages by subscriber-based secondary metrics, Subscriber Pageviews and Registered Pageviews.
Traffic by Source/UTM & Referrers
By default, the Traffic by Source/UTM module in the upper right corner of the Real-Time Dashboard breaks out your traffic into five referrer categories: Internal, Social, Links, Direct, and Search. For all open sessions to your site, we're measuring how each visitor was referred to their current page -- what page were they on last before arriving to their current page? For side door visitors who've just clicked to their first page on your site from another platform, these visitors will be categorized as Social, Links, or Search. Visitors who navigate directly to your homepage and section front pages are categorized as Direct, and all visitors, regardless of the platform they were originally referred to your site by, are recategorized as Internal as they click into additional pages of your site using your internal links. Filter on any of these categories to monitor the unique behaviors and pages these visitors engage with.
Internal - visitors who arrived to their current page via another page on your site.
Direct - visitors who arrive directly to your landing pages by typing in the URL or using a bookmark.
Links - visitors who arrive directly via an external link, such as blogs and other news sites that are directing traffic to your platform.
Search - visitors arriving directly via search engines, such as Google, Bing, or Yahoo.
Social - visitors arriving directly via social platforms, such as Facebook, Twitter, Pinterest, or Reddit.
If your team uses Google UTM codes to identify visitors referred from specific platforms or campaigns like newsletters or sponsored social posts, use the 'Source' drop-down to toggle this module to 'UTM', revealing a new set of filters for your highest traffic campaigns or platforms as determined by the values assigned to your utm_source and utm_medium URL parameters.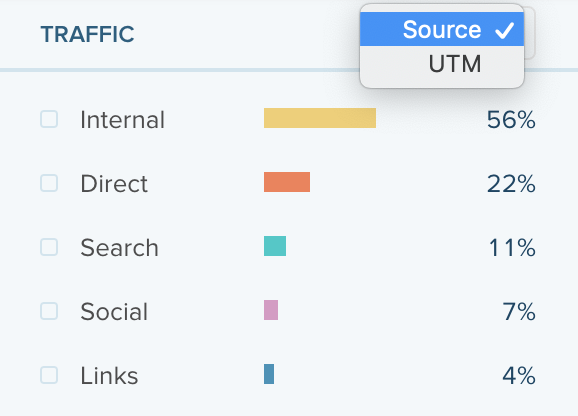 Below the Traffic Source module, get a more detailed breakout of the various external sites and platforms referring traffic to your site with the concurrents by Referrers list. Just like the Traffic by Source module, you can filter on any one of these referrers to hone in on your site's active visitors directly referred from a particular platform like Google Search or Facebook.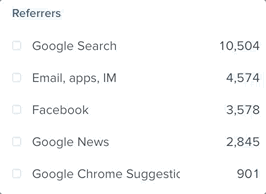 You can select multiple filters to drill down on specific audience segments, and the filters will stay in place between sessions and logins until you select Clear Filters at the top of the dashboard.

Section & Author Filters
At the top of your Real-Time Dashboard, you will find our Section & Author drop-down filters. These menus pull in the highest traffic sections and authors on your site at any given moment by the number of active visitors (concurrents) on pages within these sections, or attributed to these authors. Scroll through the list to identify and filter on your top performing sections and authors, or type to search for a particular section or author name. The drop-down will only display the top 100 values for each parameter, but searching will reveal any section or author currently receiving traffic via an attributed page on your site.
Note that these values are customizable in the sense that they must be configured in the Chartbeat code on your site and across your Chartbeat integrated platforms.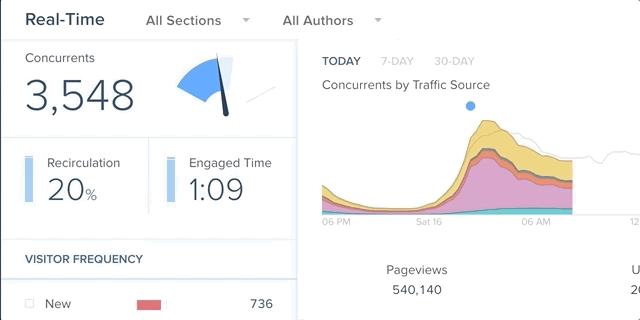 Concurrents by Traffic Source Graph
Our Concurrents by Traffic Source Graph makes at-a-glance traffic monitoring easier than ever before, and we think it's quite pretty to boot! This graph, updating by the minute, displays trend lines for each traffic source category by count of simultaneous visitors. The overlaid gray traffic line displays the concurrents trend line for this day last week for quick and simple comparison.
Run your cursor over the graph for detailed summaries of your active visitor counts throughout the day, watch for blue Spike Alert bubbles indicating that one of your pages is picking up higher than usual Social or Links traffic, and click into the 7-day and 30-day views for broader historical context of your site's current performance.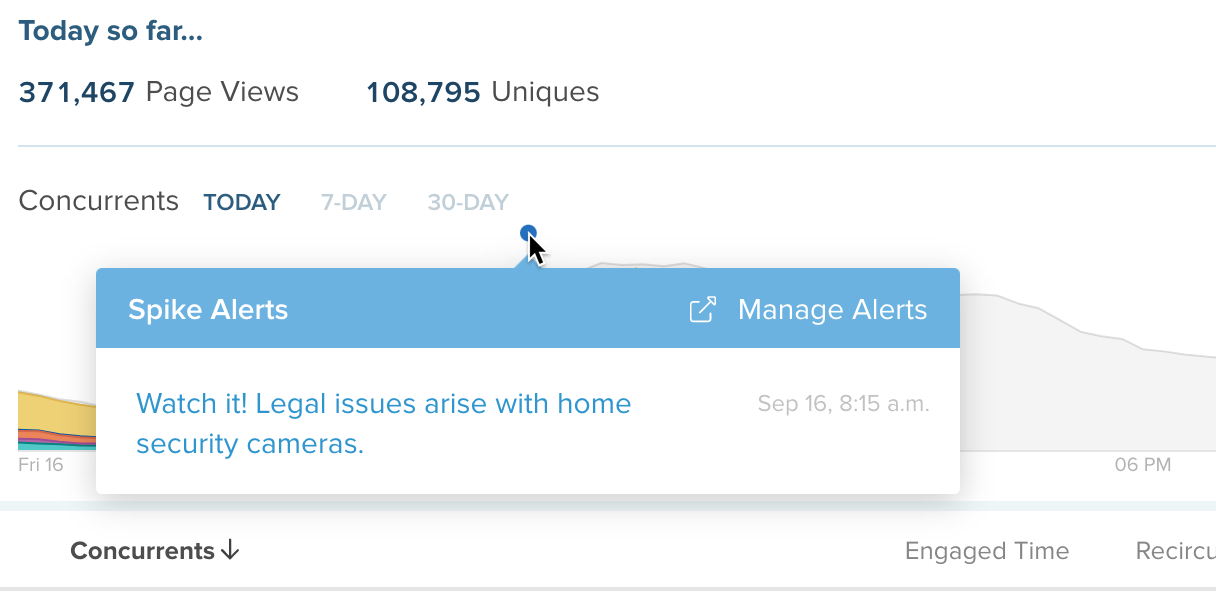 Watch as the dynamic graph updates to display new information as you navigate through Top Pages and filter the Dashboard. The following filters are supported by this graph: sections, authors, traffic sources, devices, and visitor frequency.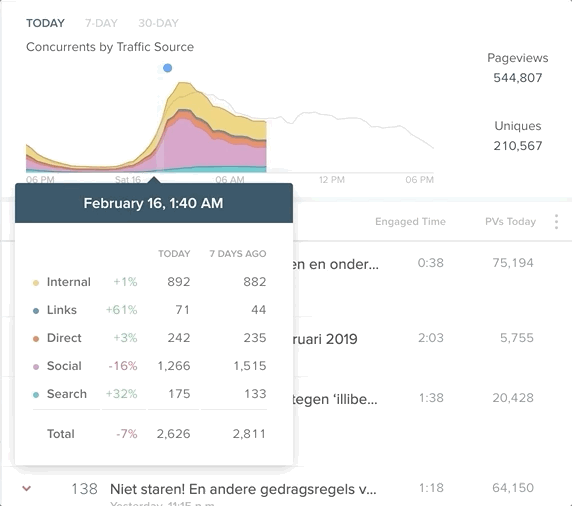 Visitor Frequency
Understand the behaviors and preferences of your visitors by how frequently they come to your site with the Visitor Frequency module and audience filters. Chartbeat categorizes your visitors into three groups by how often we see them:
New visitors are visiting the site for the first time in at least 30 days.
Returning visitors have been to your site recently, but not with enough frequency to be considered loyal (at least once before in the last 30 days, but not as often as every other day).
Loyal visitors have been to your site at least eight or more days of the last 16 days. Essentially, these visitors drop by every other day if not every day.
The fourth Unclassified category makes up the group of visitors that do not store their visit frequency. This includes those who opt out of tracking cookies and those arriving through distribution channels that do not collect this data, like AMP pages and visitors in the Apple News app.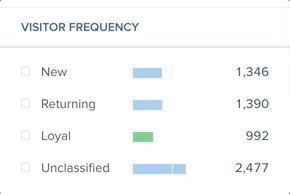 Subscriber Status
If our subscriber status tracking code is implemented for your site an additional module will appear on the left-hand side of the Real-time dashboard, 'Subscribers', that will enable your team to filter into your 'Subscribed', 'Registered' and 'Guest' audiences, as defined by your team.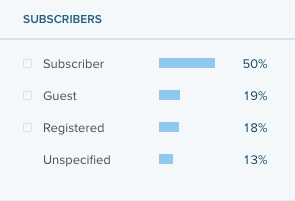 Additionally, subscriber-based secondary metrics, Subscriber Pageviews and Registered Pageviews, will become available in the Top Articles component of the Real-time Dashboard. For a historical view of subscriber audience we also offer dedicated Subscriber Engagement and Audience breakdown Reports for sites that provide subscriber type information for their audiences.
Device & Distribution
Know how your visitors are experiencing your content with our Device and Distribution filters. See visitor engagement across your mobile, desktop, and tablet audience, and integrate Chartbeat on your accelerated mobile pages, Facebook Instant Articles, and native apps to filter visitors by platform.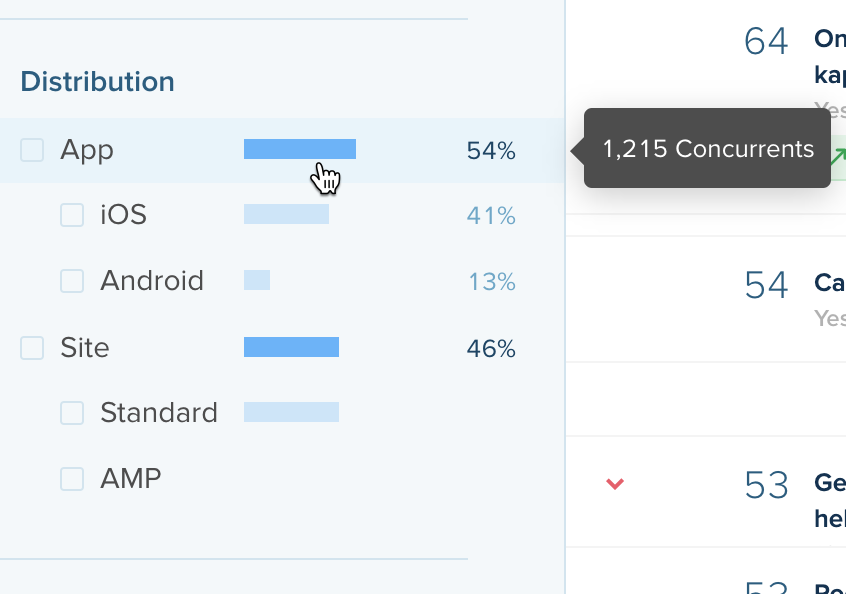 Location
Filter by Location to see how your content is reaching visitors around the world. Use the drop-down to group visitors by country, region, city, or DMA (Designated Marketing Area).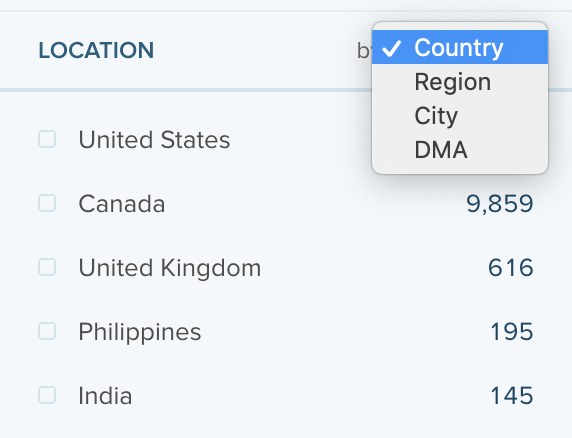 Video
With our Video tracking integration enabled, we pull your on-site video engagement data directly into the Real-Time Dashboard so your team can identify at a glance which Top Pages have videos included and how many visitors are watching versus reading. Across your site, we'll show what percentage of visitors are currently watching video ("watching"), how far through the videos your viewers are watching on average ("video engagement"), or click into a top page with video to see a list of top videos by active viewers on each page.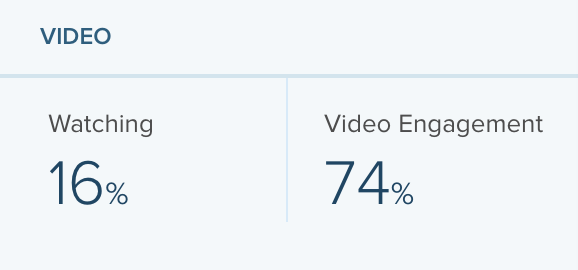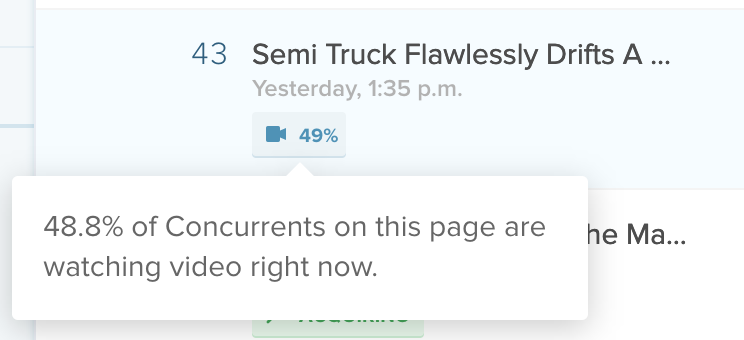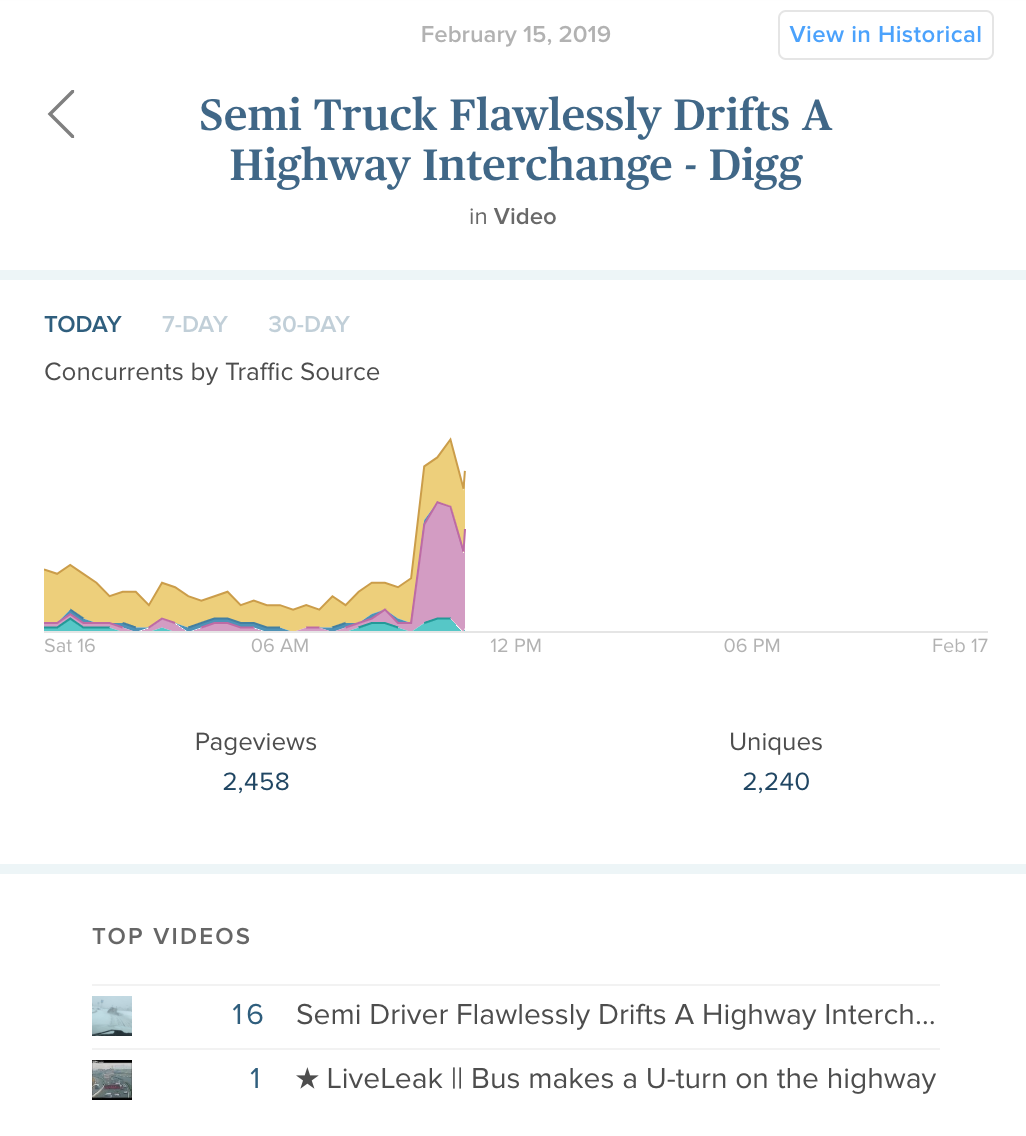 Offsite Social
Our Offsite Social panel pulls in top social posts generating buzz across the web's major social media platforms, powered by Facebook's popular CrowdTangle tool for Publishers. Without leaving the Chartbeat Dashboard, your editors and reporters can easily identify posts from external influencer pages linking to your content. Sort posts by recency, interactions (likes, comments, shares, etc), or account influence (how many followers the parent account reaches), and filter on the social platforms most important to your team.
Click on any post to jump directly to the page on Facebook or Reddit, and consider engaging directly with those users in the comments section to encourage repeat posts and drive additional traffic.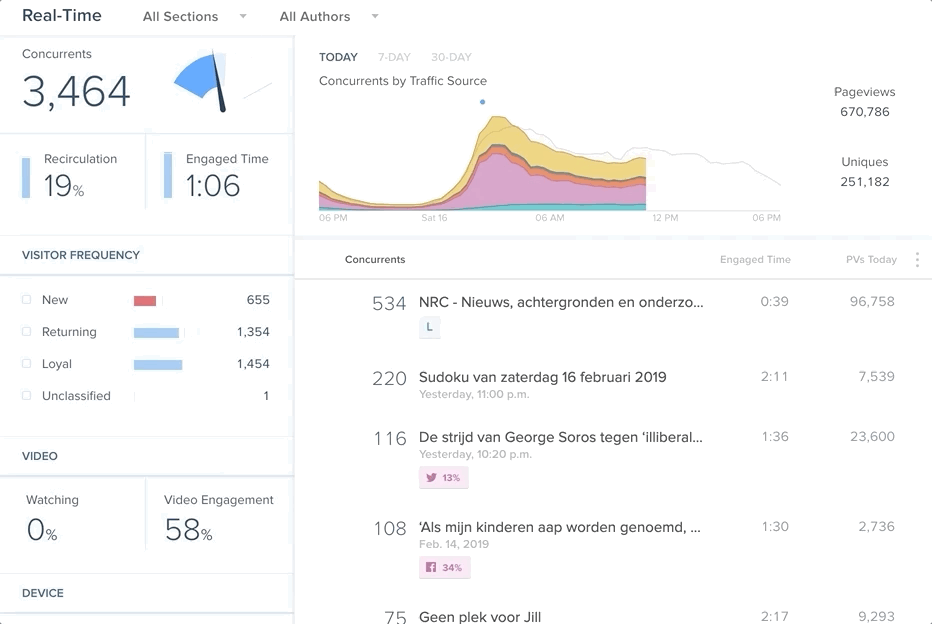 Multi-Site View
Multi-Site View is a roll-up view of different sites belonging to your account. It's a mode that allows you to pull multiple sites into the Real-Time Dashboard, Historical Dashboard, Big Board, and the Chartbeat mobile app. The Multi-Site View contains a lot of the granular functionality of Chartbeat's Dashboards, so you'll be able to analyze your group's data in surgical detail from pivoting from traffic sources, devices and geography of your readership to filtering by Sections or Authors belonging to all your sites.
Note: We do not calculate re-circulation for a Multi-Site View since this metric is calculated by comparing the number of people on a given page to the number of people who have traveled from that page to another article page within a single site and not a group of sites.
The Multi-Site View also hosts a new metric known as "Site-Context", a real-time metric that benchmarks the concurrents of an article on a given site within the context of all articles appearing on that site, and scores it from 0-10 based on that context.
The Multi-Site View is currently supported in the Real-Time Dashboard, Historical Dashboard, Big Board, and the Chartbeat native app (Android and iOS).
At this time, we do not support Multi-Site View in Advanced Queries, Video Dashboard, Reports, or Headline Testing.
Article Search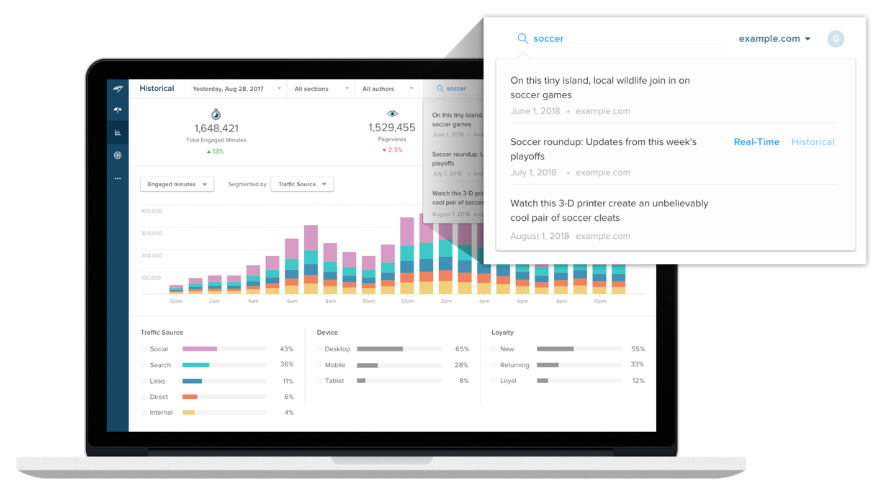 Article search functionality is available within the Real-Time and Historical Dashboards. It allows users to quickly search and easily locate specific articles by title or keywords associated with article headlines within Chartbeat.
When you search using keywords associated with your article titles, you will get a maximum of 10 results, these being articles that that include your keywords in the title. If you're searching for a story from a site's Real-Time dashboard, we will only surface results for the site you have open, and only articles that are currently receiving traffic at the time of your search.
Learn more about the article search feature in our How does article search work article.
Article Search is currently supported in our Real-Time and Historical dashboards for single and multi-site views, but not in the Chartbeat mobile app.