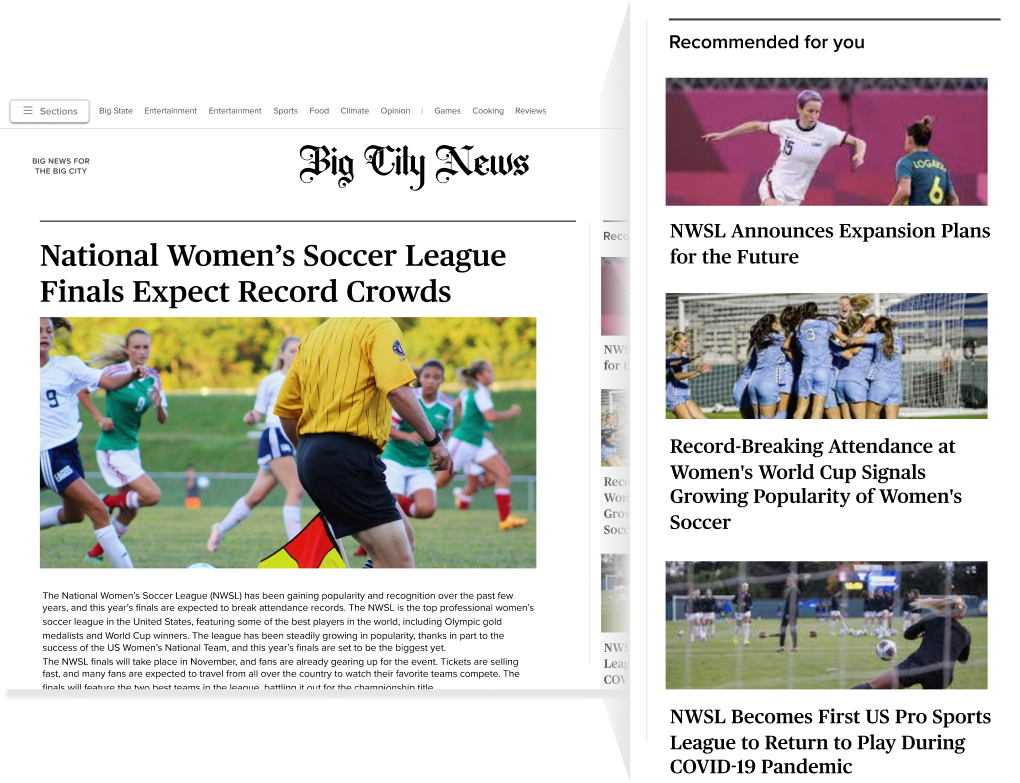 The Recommendation Engine allows your team to suggest relevant content to your readers easily. Our AI-based recommendations combine existing Chartbeat technology with content and reader metadata to help publishers suggest engaging content to readers.
This product is available as an add-on with a set of free features also available. If you're interested in adding the Recommendation Engine to your account, fill out this form to learn more.
Recommendation APIs
Our APIs can help power any existing or new recommendation widgets or sections on your site. The following modules are currently available, and more will be available soon.
Note: The Recommendation APIs require some simple implementation and shouldn't demand more than a few hours of your developers' time on the backend. However, it's important to note that you'll need front-end development resources to display recommended content on your site. Please fill out this form and our team will help you get started.
Related Articles Module
The Related Articles module enhances the content discovery experience by identifying articles with similar content, section, or category relevance, and optimizes for engagement metrics to provide tailored article recommendations for your readers.
Device-Tailored Recommender Module
Chartbeat's device-specific recommendations enable you to customize content suggestions for your readers, leveraging the latest trending articles on devices similar to theirs. These recommendations enhance the reader experience by offering relevant content that aligns with the reader's specific device setup.
Region-Tailored Recommender Module
Readers are often in search of local and regional news. Personalize top trending content in the region of your readers with our Region-Tailored Recommendations. These recommendations enhance the reader experience by offering relevant content that aligns with the reader's location.
Chrome Extension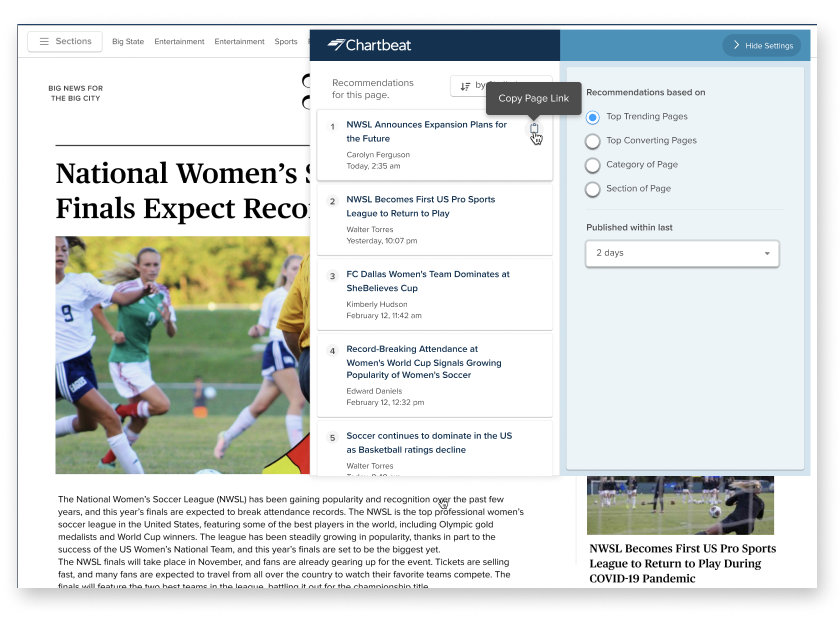 Automation plays a pivotal role in scaling content suggestions, but we recognize that there are instances where manual curation remains necessary. Rather than depending on memory or sifting through extensive content libraries, Chartbeat offers an intuitive, self-serve Chrome Extension designed to empower your team in discovering and customizing recommendations for any published piece. This Chrome Extension facilitates the curation of in-line content suggestions for articles, social media posts, newsletters, or even the exploration of your existing content to spark creative ideas. You can learn more here.
Impact Report
Recommending content is the first step to keeping your audience engaged and spending time discovering more on your site. To enhance and optimize recirculation rates and overall engagement time, it's crucial to gain insight into how your recommendations influence key metrics. We created an Impact Report to provide you with this essential information. Use this report to comprehensively analyze the effects of recommendations on metrics such as click-through rates, page views, engaged time, and more. You can learn more here.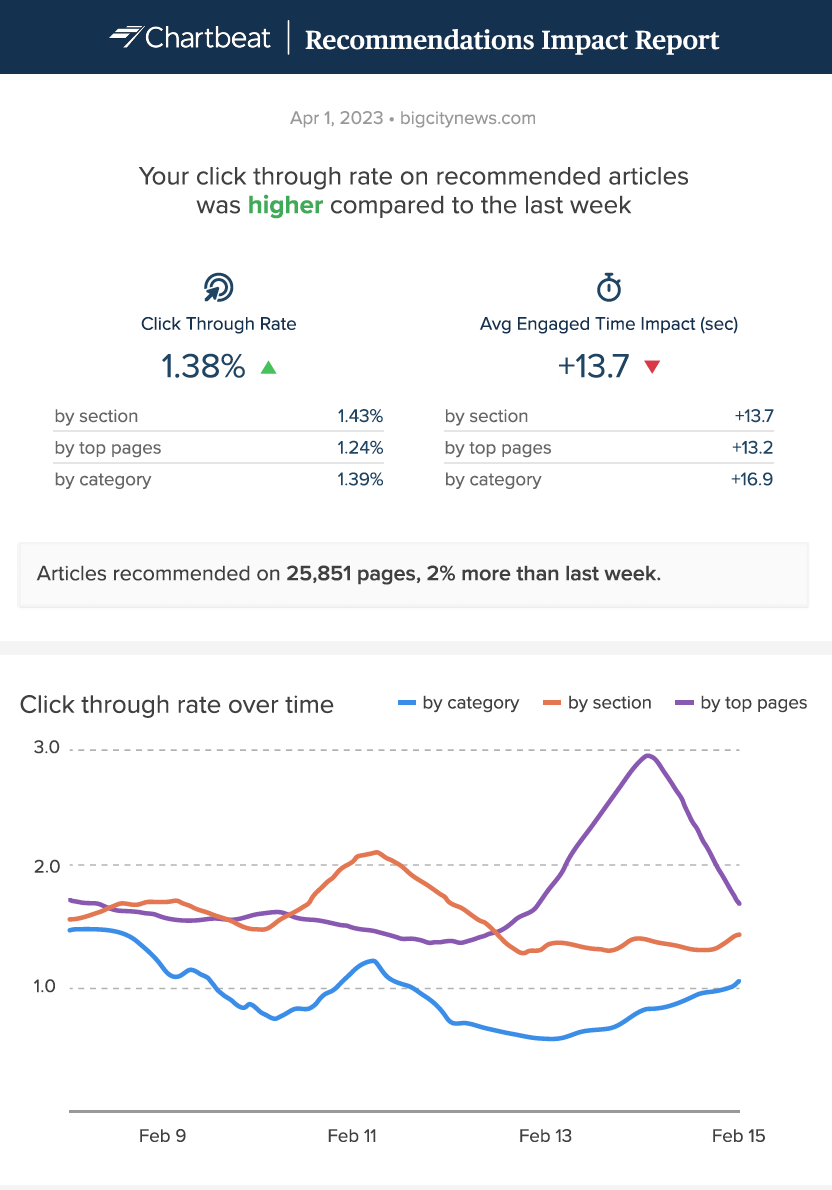 Supported Languages
The Chartbeat Recommendation Engine supports the following 50+ languages:
Arabic (ar)
Bulgarian (bg)
Catalan (ca)
Czech (cs)
Danish (da)
German (de)
Greek (el)
English (en)
Spanish (es)
Estonian (et)
Persian (fa)
Finnish (fi)
French (fr)
French (Canada) (fr-ca)
Galician (gl)
Gujarati (gu)
Hebrew (he)
Hindi (hi)
Croatian (hr)
Hungarian (hu)
Armenian (hy)
Indonesian (id)
Italian (it)
Japanese (ja)
Georgian (ka)
Korean (ko)
Kurdish (ku)
Lithuanian (lt)
Latvian (lv)
Macedonian (mk)
Mongolian (mn)
Marathi (mr)
Malay (ms)
Burmese (my)
Norwegian Bokmål (nb)
Dutch (nl)
Polish (pl)
Portuguese (pt)
Portuguese (Brazil) (pt-br)
Romanian (ro)
Russian (ru)
Slovak (sk)
Slovenian (sl)
Albanian (sq)
Serbian (sr)
Swedish (sv)
Thai (th)
Turkish (tr)
Ukrainian (uk)
Urdu (ur)
Vietnamese (vi)
Chinese (Simplified) (zh-cn)
Chinese (Traditional) (zh-tw)