How to Sign In
Open the Chartbeat mobile app OR visit the chartbeat.com homepage and click the SIGN IN button in the upper right corner of your browser window.
Enter your email address OR username
Enter your password and click SIGN IN
Forgot your password? Head to chartbeat.com/forgotpw/ and enter your email address to receive a link to reset your password. If you do not receive an email shortly after, follow these steps before getting in touch with our team to further troubleshoot.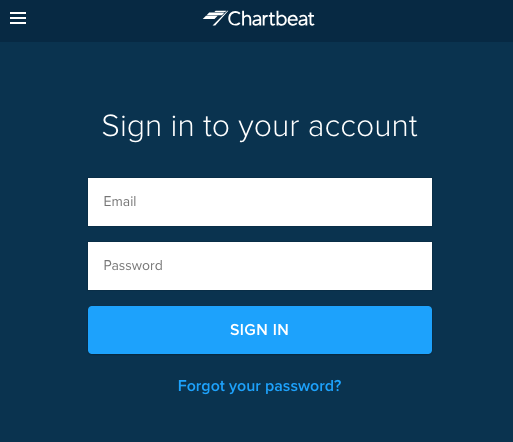 Troubleshooting Sign-In Issues
Having trouble signing in to Chartbeat? You may be using the incorrect email associated with your account. Double-check the spelling and format of your email, and if you're unsure, contact your organization's admin to verify the email associated with your Chartbeat account.
For other common sign-in problems, please check out our article on troubleshooting sign in issues.